It is high time the fashion industry shifts to a greener and more sustainable approach.
As Paris fashion week is coming to an end and the fashion week season is almost over, one should turn back and look at what can be remembered in the area of sustainable and green fashion. The answer is actually not in Paris, but in Helsinki (20th – 25th July 2018, founded and organized by Evelyn Mora, a 26 years old entrepreneur) and -more famously- in Milan (18th – 24th September 2018). The fashion industry represents a challenge for the environment: fast fashion, polluting raw materials or bad production methods can really damage it, not to mention the waste it can represent or the danger for people working on such factories. This is all reasons why one has to find an alternative. But most importantly, the fashion weeks begin to raise awareness about environmental issues and challenges ahead of them, that is a major step to help people mobilize and being involve in protecting the environment and pushing for a more sustainable fashion development.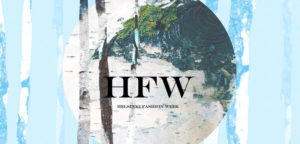 While Helsinki fashion week goes deeper than Milan's one in sustainability -because it's the first 100% sustainable fashion show and its sole purpose is to make "clean" designers known and to raise awareness about the need for sustainable fashion- both initiatives must be recognized.
On the first hand, there is Helsinki fashion week, which is a "new" fashion week, designed to be ecofriendly. The concept of this fashion week is brand new and it helps designers to be known as well as the public or journalists help to raise awareness and promote a new way of doing fashion (creating it but also consuming/enjoying it). Indeed, every piece of cloth introduced during the shows were as sustainable as possible, using recycled raw material, clean lines of production …. But while such an initiative is great and needed, it is still unusual in the fashion world, and so they needed to do something to ensure the success of the event.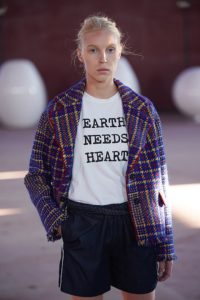 That is precisely the reason why it is so important that the big four fashion weeks (New-York, London, Milan, Paris) weight in for sustainable fashion : Helsinki's fashion week had to find some poster-designers to make people and the press attend the shows; which is why they turned to the winners of the Green Carpet Award (organized by the National Chamber of Italian Fashion and Eco Age), a ceremony held each year in La Scalla in Milan to end the fashion week. They chose Tiziano Guardini (see picture) as the poster designer of this year, having won the Best Emerging Designer Award during the Green Carpet Fashion Awards 2017. This special fashion week was also a success in terms of inclusivity, reuniting designers from countries often left behind in the high-fashion industry (for example India, Greece …).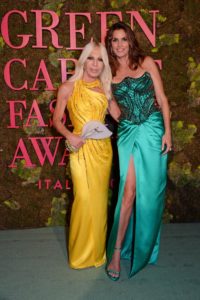 On the other hand, even if Milan fashion week was not as green as Helsinki's, it is already a big step that one of the big four fashion weeks -established in 1958 and followed throughout the world- dedicates one night to shed light on environmental issues. The media coverage is enormous, and such an initiative enables a real step forward in changing the mentalities and pushing designers toward a more respectful fashion. One could think that those awards are only interesting for new brands or designers, wanting the publicity; but it also has an impact on well-established houses too. One can think of Versace, founded by Giovanni Versace in 1978 and since run by his sister Donatella (artistic director since 1997). The brand was rewarded with the CNMI (Camera Nazionale della Moda Italiana, ie National Chamber of Italian Fashion) in Recognition for Sustainability, rewarding Donatella's decisions from going fur-free or designing and building the greenest retail spaces, to a Versace culture that puts people and their well-being at the center.
To conclude, all those initiatives and awards, even if they are not enough, represent a good step forward toward a clean fashion industry and give the good incentive to both consumers and designers. One can only hope that it is only the beginning of the journey to go green, and that every one of the four big fashion weeks will shift to promote a more sustainable way of creating, doing and seeing fashion and the fashion industry.
Sources :
https://en.vogue.me/fashion/designers/highlights-helsinki-fashion-week-2018/
https://www.marieclaire.com.au/helsinki-fashion-week-2018
https://www.hollywoodreporter.com/news/milan-fashion-week-green-carpet-awards-honor-visionaries-style-1146497
https://eco-age.com/news/green-carpet-fashion-award-winners-2018