As you may have seen on our Facebook (click here) or Instagram page (click here) , we took part in a plastic straw collection two weeks ago, organized by Zero Waste Saigon and at the benefit of the artist Benjamin Von Wong, whose work aims at raising awareness about plastic pollution. We wanted to find out more about it, so we interviewed Klara, who works at Zero Waste Saigon. Let's learn more about this operation and the company!
 Who took the initiative of organizing the collect? The artist or Zero Waste staff?
The founders of Zero Waste Saigon took the initiative of contacting the artist because they knew about his work and liked it very much. Then Benjamin Von Wong (the artist) proposed a collaboration on a project around plastic straw. Then it was up to us to find a financial partner to enable us to organize everything, which we did when Starbucks coffee agreed to help us. It is not the first project of the artist that aims at raising awareness about plastic pollution (especially in the ocean), as you can see in the following link and picture.

Vidéo : click here
 Have you already met the artist?
We still haven't met him yet because he is living in Canada and travels the world for his projects. We did meet him via social networks like Skype and organized his coming to Saigon in January. He will be with us from 7th to 31st January 2019 to promote the project (that means he will do workshops, meetings, lectures …) and make his work of art from the straws we collected. He needs 10 000 straws, and that is also the reason why he comes in January and not before, so that we have time to collect all of them.
 Talking about the straws: how did you organize the collection?
We needed to find partners to supply us with "pick up kits" so that people would be able to pick up straws. So, we reached out to Adopt a Spot, which is an organization funding the "Clean Up Vietnam" initiative (aiming at collecting waste in the streets, so larger than our straws collection). Adopt a Spot works with schools, businesses and private individuals to help them preserve the cleanness of the streets and the environment. The money they raise this way is used to finance Clean Up initiatives all around Vietnam.
We also reached out to Union's Jack, which is a British fish&chips restaurant in Saigon, and is really involved in protecting the environment: they ban plastic from their restaurant, use bamboo straws etc. They agreed to offer free menus to the team who collected the more straws during our event.
Once we had secured our sponsors, we only created a Facebook event and promote it on social networks. We weren't sure that people would show up and be interested in our initiative, but it was pretty successful and around 20/30 people showed up! We are thinking of doing it again soon.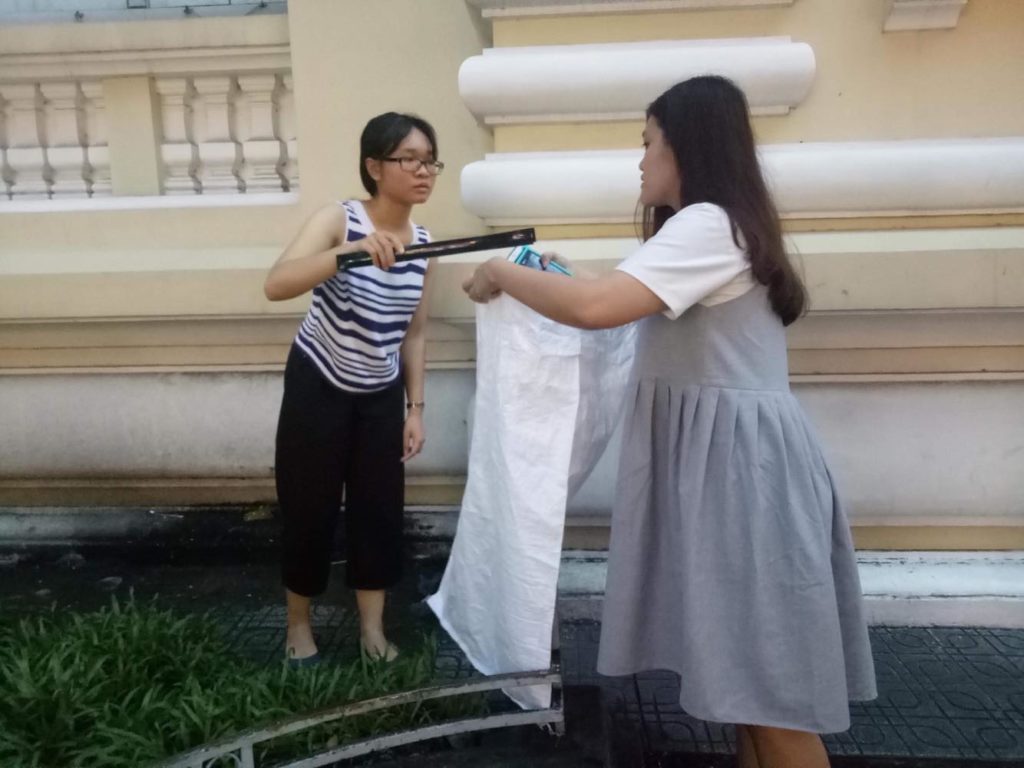  Were you satisfied of the event, or are there things you'd like to change next time?
We are mostly satisfied of the event, but we noted two or three things we could improve. To begin with, we should have distributed more "pick up kits" (they are made of one clip, one pair of gloves and one big bag) because we only gave one by team, and the teams were composed by at least three persons so it was a bit short. We are also thinking about changing the day/hour of the event to attract more people: we did it on a week day, and at 5pm (we couldn't do it later because the sun would have already gone down) so we think some people couldn't attend because they were still working.
 What comes next till January ?
We are trying to organize Clean Up operation and straws collections all around Vietnam for the month to come: in Hanoi, Nha Trang, Da Lat … What's hard is that we are not implanted there, so we must find someone who can take charge of it, a space for people to meet before collecting the straws etc. This is one of the reasons why our team has grown, and we have now people who only work on the Clean Up operations. We also have lots of people sending us straws they picked up on their own. This is really encouraging, because the whole point of the project is to raise awareness about plastic pollution, and it seems to work.
 Do you have other projects you're working on at Zero Waste Saigon?

Yes, we have a few other projects. The first one is an educational program, detailed in the picture. This one may be the biggest one, because we need around $25000 to make it work (we have to pay the speakers …). We are still working on the funding.
We also have an ecofriendly beauty box project : we're working in partnership with one of the biggest Vietnamese youtuber (Giang Oi, link of her channel ) to create a 0 waste box, that is a box with no plastic packaging or at least recyclable packaging, with products made of clean and ecological raw materials …
In a nutshell, everything we do aims at raising awareness about the danger of plastic pollution, and trying to reduce it, by helping private individuals and businesses to find alternatives (which is why we also have a shop : https://www.zerowastesaigon.com/shop/ ).
We hope you enjoyed reading the interview and finding out more about Zero Waste Saigon and the good job they are doing. We also hope it raised your interest in environmental issues: we should all act in our own way, no action is too small to help protect the earth. If you're feeling like helping us collecting straws, please contact us so we can pick them up! 😊