Shopping bags
What do you think about this new Balenciaga bag? Do you see this suppleness of leather, the ability to make you able to take all of your belongings with you in town or on vacation, or this pretty blue to match elegantly with your spring outfits? All these features are the ones of the new bag from Balenciaga for the next season.However, internauts are laughing, guess why? Look, here is another version of this bag, same style, same flexibility, same color, these big bags are differentiated only by their material and … their prices.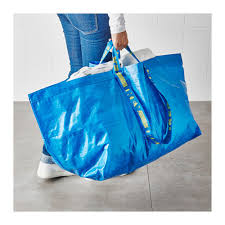 And yes, as you have noticed these bags are really similar. Balenciaga offers a luxury version of the IKEA famous blue shopping bag. Who would have believed it ? A bag designed by two different brands with totally different positioning: on the first hand, a brand recognized for its ranges of refined and luxurious fashion products and on the other hand a Swedish brand that sells Scandinave furniture at very competitive prices. Originally, no relationship between the two brands but today they share a product. This simple shopping bag, mass produced by the brand to accompany customers every day, is offered as a luxury item by Balenciaga.
So now, we have found the new "it of the season". And, as Natalie Clifford Barney said, fashion is the search for a new ridiculous. Between the "new it of the season" and crazy and ridiculous invention, the shopping bag becomes a fashion accessory for the new season. Soon, models will parade with different shopping bags ! Fashion will always surprise us but today, at least, it is easy to be trendy! However, no question of following this movement "like sheep", especially since such a bag of this size and color does not go unnoticed in everyday life. You follow me ? A shopping bag, a daily product, seen and reviewed but each time the sizes, shapes, handles, colors, logos differ. It is a product declined in many ways by different brands but also infinitely declinable for the future. We all get shopping bags regularly, sometimes we can even choose between several designs and then we keep some for the next time. These bags accompany us and then they become part of our look whether we like it or not. But if I told you that these bags can become a real fashion accessory and not a simple plastic bag that is transported by constraint?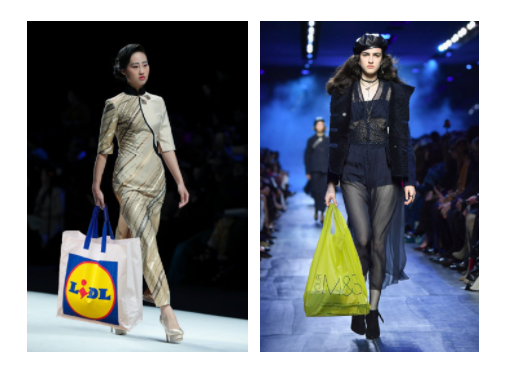 According to your tastes, you can find the one you need. Today, to "be fashion", it is no longer about to spend huge amounts of money in order to access to a wide choice of product. From a simple shopping bag to a lightweight polyester bag, plastic bags come in different ways in our everyday lives without even realizing it. Plastic can be used and declined in many ways. Polypropylene, for example, can be present in two forms: woven or not. Woven, this material makes it possible to manufacture very resistant bags also called "life bags". For its part, the non woven polypropylene seduces more, aesthetically speaking. The polyester bags are lighter and more flexible: one could believe a real fabric. You can find or even create yours according to your criterions. And to top it all, they are washable and sometimes even waterproof so no more question of guilty at the slightest task or leave them in the closet, they are ready to face your daily life with you!
Links: